ABOUT US

MISSION & VISSION

OUR APPROACH
Who We Are
"Volunteer for Bangladesh" is a youth wing of JAAGO Foundation, established in 2011 with support of U.S Embassy to Bangladesh. Its goal is to empower young people in Bangladesh to volunteer and develop leadership skills to make positive change in their communities. It provides platform for community service, volunteer work, training, and mentorship opportunities.
OUR VISION
Developing an interdependent Bangladesh through volunteerism to achieve the nation's highest potential highlights the importance of volunteerism in building a strong and resilient society, fostering interdependence, empowering citizens to take ownership of their own development and ultimately achieving the country's full potential.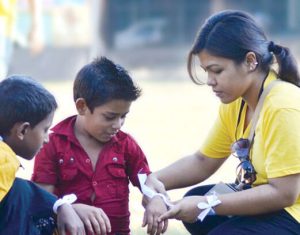 OUR MISSION
Empowering and facilitating volunteerism to develop the nation by reallocating skills and resources to foster self-reliance and growth within every youth Bangladesh" emphasizes the importance of volunteerism in the development of a nation by empowering individuals and communities, making it easy for them to volunteer, reallocating resources effectively, fostering self-reliance, and promoting growth and development among the youth of Bangladesh.
LET'S REBUILD OUR NATION!
Youth is the harbinger to bring about any positive change in a country.
Youth undoubtedly is the most viable and potential human resources for any population and social structure. Especially in developing countries like Bangladesh where around 50 % of the population falls between the ages of 15 to 25 years. Young people are the key social change agents and they are capable to inject the positive energy and creative ideas. Youth have the determination to drive innovation and reform. However, misguidance and lack of support can hinder the potentials of youth and turn them in to burden for the nation. On the other hand, Bangladesh has been confronting immense challenges in the process of development. To minimize these hindrances there is a persistent need of a platform of guidance and empowerment of the generation today and next. Volunteer for Bangladesh is a platform that would allow youth from different social background to come and work together to reduce the social and economic inequalities to build a better Bangladesh.
OUR APPROACH
We encourage volunteers to become a part of the youth family and bring positive change with in and people around them. VBD allows the volunteers to come up with their innovative ideas, sharpen it and implement it to a way that benefits the community because VBD promotes youth lead initiatives. Youth centric thoughts, spirits and activities are central to VBD.Volunteerism is a powerful way to involving people of all ages in tackling social as well as development challenges and obstacles. It further helps to take a leap and transform the nature of development. Volunteerism benefits the individual to strengthen trust, unity and empower as well as aiding the society at large. Furthermore, in today's world where opportunities are centralized VBD has created platform for the youth outside the capital city where their voice is heard and valued.

OUR IMPACT
At present with around 35,000 registered volunteers, VBD is now actively working in 32 districts, whichis 50% of entire Bangladesh, in various social awareness campaigns all through the year. Each of the individual district acts as a platform for the local youth to become vocal about the respective community issues and to work for the social development accordingly. So far we have successfully planned, designed and executed many big campaigns on Universal Children's Day, World Water Day, World Environment Day, Great Kindness Challenge, etc and many others social issues.
HISTORY OF VOLUNTEER FOR BANGLADESH
On 2009, a group of 500 first volunteers found each other to host the first ever Universal Children's Day (UCD) campaign in Bangladesh. Proposed by the United Nations, UCD has been working for the rights of children since 1954. Though this day was observed in different ways in various countries all over the world, it was not observed widely in Bangladesh before However, now, Universal Children's Day is observed to spread consciousness to the communities about children's education and this project is still among the key campaigning events of VBD.. JAAGO Foundation has been the pioneer in providing the youth a voice and a platform through its Youth Wing "Volunteer for Bangladesh". In 2011 with the support of U.S. Embassy by empowering youths and facilitating volunteerism in Bangladesh. From 500 volunteers today we are a family of 40,000 registered Volunteers, VBD is now actively working in 56 Districts of the country with various social awareness campaigns and projects to ensure Sustainable Development Goals.
Empowering Youth to Achieve the UN SDGs 2030.
This inclusive and engaging program will enlighten the delegates with issues like Sustainable Development Goals (SDGs) to community engagement. It will further strengthen personal development of the delegates thus inspire and motivate them to be Active Citizens in their respective areas.
"Volunteer for Bangladesh" is the youth wing of JAAGO Foundation. The aim of which is to empower youths and facilitate volunteerism in Bangladesh. VBD aims to develop a nation by reallocating skills and resources to foster self – reliance and growth in every citizen.
How and when did it start?
With the support of U.S. Embassy Bangladesh, JAAGO Foundation as the pioneer has been providing the youth of Bangladesh a voice and a platform for contributing the nation since 2011.
Is this a registered organization?
JAAGO Foundation is a registered non-profit organization with the Registrar of Joint Stock Companies and Firms' under the Government of the People's Republic of Bangladesh. The registration number is S -8027(48)/08. Volunteer for Bangladesh is the youth program of JAAGO Foundation.
Who is the National Board President?
National Board President, Volunteer for Bangladesh:
Name: Md. Zihadul Islam
Place of Birth: Rajshahi, Bangladesh
Current Residence: Rajshahi, Bangladesh
Will VBD be responsible for any criminal activity conducted by a registered volunteer?
VBD will not hold any responsibility which may have arrived either directly or indirectly for the participation in any volunteer program organized by the Volunteer for Bangladesh
Is it safe to volunteer with VBD?
It is completely safe for a volunteer to volunteer with Volunteer for Bangladesh. VBD is the youth wing of JAAGO Foundation which is a well reputed organization and registered.
Benefits of Volunteering with Volunteer for Bangladesh?
To build self-esteem and self-confidence
To develop skills
To become the insider and help the community through engagement
To become the change  and  bring  change
Engaged volunteers are always appreciated to bring diverse points of view to the organization
Dedicated volunteers become the passionate representative of the organization
Details are available on Volunteer for Bangladesh website – vbd.com.bd or you can email us at  info@vbd.com.bd
Is it affiliated with any political organization?
No it is not affiliated with any political party.
Will VBD tack care of any health issue of a volunteer during any VBD campaign?
VBD will only provide the first aid support; if possible will refer to a nearby hospital.